Volkswagen Group China, together with its local partners, is planning to invest 4 billion euros ($4.41 billion) in 2020 in China, its largest market worldwide, showing its confidence in the country's long-term growth potential.
The massive investment plan, a chunk of which would be on electric mobility, was unveiled on Thursday, at a time when it is becoming almost certain for China's car market to fall in 2019, the second year in a row and without any signs of a fast recovery.
Statistics from the China Association of Automobile Manufacturers show that vehicle sales in the first 10 months of the year totaled 20.65 million, falling 9.7 percent year-on-year.
"During our years in China, the direction for a long time was clear: up. This has undoubtedly changed," said Stephan Woellenstein, CEO of Volkswagen Group China.
"We expect a decline of the total market for the second time in a row. For 2020, we foresee the total market to repeat the level of this year."
Despite the headwinds, however, the group has seen its market share grow larger.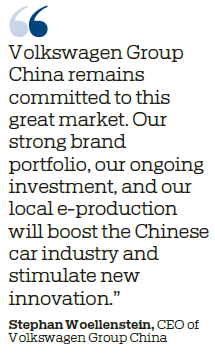 From January to October, it delivered 3.34 million vehicles and increased its market share to 19.5 percent in China, hitting the highest level in five years.
Volkswagen said it is confident in the long-term potential of auto industry development in the country, where the group has lived up to its name of being the "people's car", with accumulated sales totaling over 42 million vehicles.
"Our confidence is also reflected in our investment decision for 2020," said Woellenstein, referring to the investment plan of 4 billion euros in China.
"Our continued investment is charting the right course. Though challenging times remain, we won't slow down and will continue to excite customers with our strong brand portfolio and accelerating electrification," he said.
The group said the amount spent on e-mobility will account for around 40 percent, in fields such as production, infrastructure, development and research for electric cars.
The group said it foresees spending more on new energy vehicles than on gasoline cars in coming years.
The investment will also target the carmaker's other goals, including further optimizing its model portfolio, developing new mobility solutions, as well as making advancements in smart cities and autonomous driving.
By the end of this year, the company will have already offered 14 new energy vehicles, while the real offensive will start next year.
"Of course, we closely watch the ups and downs of the new energy vehicle market. Still, its ongoing long term growth excites us, as our electrification accelerates," said Woellenstein.
"I am looking forward to 2020, when our local e-car production will significantly increase in scale," he said.
In 2020, two plants in China will start production of all-electric cars on Volkswagen's MEB platform, which is a dedicated platform for such vehicles.
The Anting plant in Shanghai, owned by SAIC Volkswagen, started pre-production earlier this month. The ID.3 model, which is now produced in Germany, will be localized at the plant with an annual production capacity of 300,000 in late 2020.
FAW-Volkswagen's Foshan plant will start production of MEB models around the same time. It has a production capacity of 300,000 vehicles as well.
There will be 10 models built on the electric-only MEB platform by 2023. Overall, the group will offer 30 locally produced new energy vehicles by 2025, with their combined annual sales totaling 1.5 million.
"China is the e-mobility powerhouse of the world. And we strive to be at the forefront of shaping this movement," said Woellenstein.
He said success in e-mobility will be a key driver for reaching Volkswagen's sustainability target.
The group is committed to becoming a more sustainable automaker worldwide and in China, which includes becoming net carbon neutral by 2050.
"For this decarbonization goal, a supply of green energy, proactive decarbonization measures, and climate projects are the most important next steps for us," said Woellenstein.
As part of the efforts to achieve the goal, Volkswagen has launched the "goTOzero" strategy in China.
This initiative includes using fewer resources in production, increasing the share of new energy vehicle models in the group's portfolio to 35 percent by 2025 and revving up its decarbonization effort by reducing the CO2 emissions of cars during their whole life cycle.
In 2020, the group will launch its China-specific decarbonization index, making its progress transparent.
"Volkswagen Group China remains committed to this great market. Our strong brand portfolio, our ongoing investment, and our local e-production will boost the Chinese car industry and stimulate new innovation," said Woellenstein.
lifusheng@chinadaily.com.cn